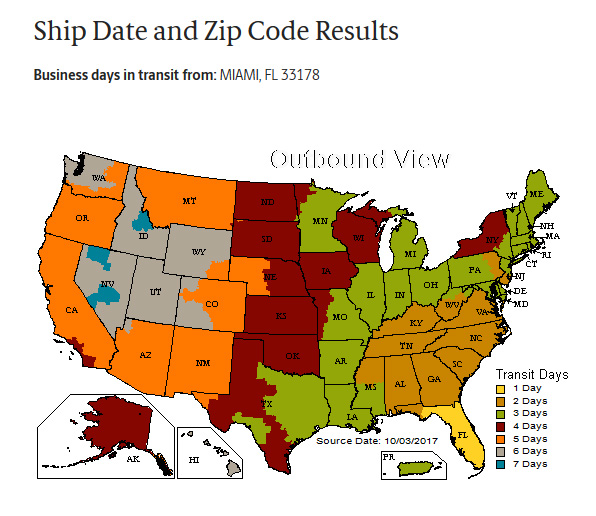 How can I track my package?
A.  You will receive an email from UPS with a tracking number once we enter your package information into the UPS database.  If you do not receive an email from UPS double check your spam folder or email 
customerservice@dorismarket.com
 with your order details and we will email you the tracking number.
If I choose UPS 2nd day air or Overnight will I get my order in that amount of time from when the order is placed?
There is no guarantee that we can get your order out in the same day from when it is placed.  Depending on availability of product it may take up to 48 hours to ship out a package.  We will ship your package using the method that was chosen, but it is not guaranteed to be delivered in that exact amount of time due to the processing window.
Can I choose ground shipping if I ordered perishable items?
You can choose ground shipping for perishables as long as ground shipping takes no more than 3 days in transit.  If ground shipping takes longer than 3 days we do not suggest choosing ground shipping because the product may not hold up for that long in transit.  UPS 2nd day air needs to be chosen if your shipping destination is more than 3 days away.
How long does UPS ground shipping take?
Ground shipping in Florida takes one day (from when we ship out the package).  Ground shipping to most East Coast states takes 2-3 days (from when we ship out the package).  Ground shipping to the Midwest and West Coast states takes 4-8 days (from when we ship out).  Time in transit does not include the weekend.  The weekend and certain holidays will add time to the transit of your package.  If you have any questions on specific transit times for your zip code please email 
customerservice@dorismarket.com
.
What is the additional packaging charge?
If your order contains perishables there is an additional charge of $15.00 for packaging/handling of cooler box and ice packs.
How are perishable items packaged?
Perishable items are packed in a Styrofoam cooler box and packed with ice packs.  Perishable items may only be in transit for 2-3 days, so the proper shipping method needs to be chosen.
How long does it take to process pending orders?
We do our best to get orders out within 24-48 hours of the order being placed.  Processing time depends on availability of product order and if the product is a perishable item or not. Orders containing perishable items may take an additional day for processing.  If an order contains perishables and there is a risk the package in transit will coincide with the weekend, we will hold the order until the following Monday since the weekend adds an additional 2 days to transit time.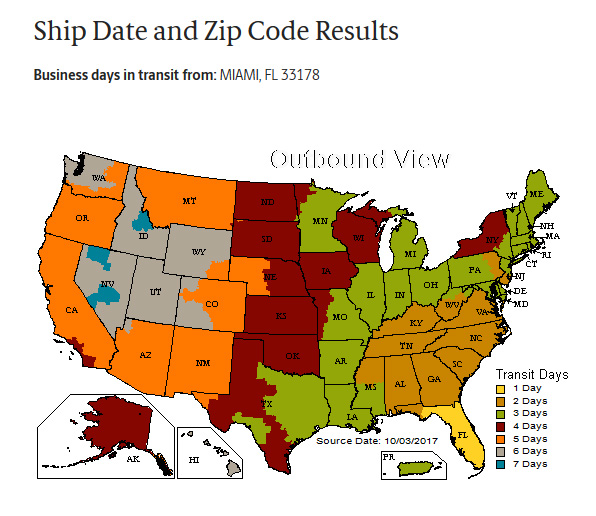 What shipping method do you use?
We use UPS to ship orders
How are shipping charges calculated?
Our online store is connected with the UPS website, and the shipping charges are based on the zip code destination and total weight of the package.